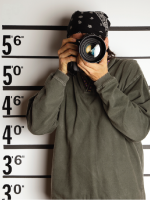 Why!?
That's one of the questions a great number of photographers the world over ask every day. Why, do I continually get harassed by people for taking pictures in public? Why do police officers, security guards and those who are supposed to know the laws, make up rules as they go? Why is it that, as a photographer, I know the laws, but a great number of other people don't?
As a professional photographer, I have on more than one occasion, asked every one of these questions and more. It seems to be a never ending battle just to defend my rights and freedoms to take pictures in public. As photographers, a great many of us have experienced situations in public where we are treated like the definition of a "Pariah" for taking pictures.
There are examples of these confrontations all over the internet and in the court rooms of numerous countries around the world. One of the most interesting similarities in a great number of these cases is that the photographer was well within his/her right to be taking the picture, because they were in public and on public property. However, it always seems to be the individual who had his/her picture taken, that doesn't know the law, and tries to make up the law as they go to make us delete the image(s).
We need to know our rights as a photographer and be willing to stand up for them. It is to this end that the ZAPRAG concept was born.
Know your rights and educate those that don't!